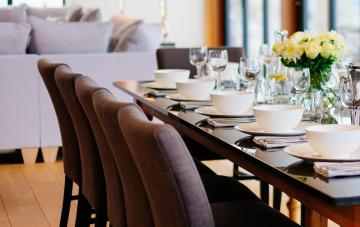 5 Star Luxury Self-Catering Rentals in the UK
Explore our range of luxury and self-catered holiday homes in the South West.
With such a wide variety of properties to choose from, we offer stunning homes in the most sought after parts of Cornwall, Devon and Somerset.
Fantastic selection
Our properties boast incredible locations to fit your needs, whether you're hoping to explore buzzing local villages, take a walk along the beach or retreat to the quiet countryside. All of our properties have high specification interiors and unique features, and many come with extremely desirable facilities, including hot tubs, tennis courts, heated swimming pools, games rooms, state of the art audio visual equipment and expansive wet rooms.
If you're hoping to bring your pets along, a variety of our holiday homes and nearby beaches are dog-friendly, so look for the dog symbol to ensure your faithful friend won't miss out on any of the fun.
Leave the rest to us
We seek to cater to your every need, so don't hesitate to take advantage of our concierge team and their local expertise. Available to make reservations and arrange in-house spa treatments or private dining, the team are always on hand to help you with whatever you may require during your stay.
Looking for something else?
If you can't find a house that meets your requirements, please call us to find out more. We are continually introducing new properties to our portfolio and can work together to find your dream holiday home.